How to instantly add a touch of quintessential French style to any ensemble: add a silk scarf. At Alice Alexander we've designed two incredible prints to add a splash of color and print into your wardrobe. Inpsired by the trippy prints of the late 60s and 70s they add dose of vintage-y vibes to any outfit.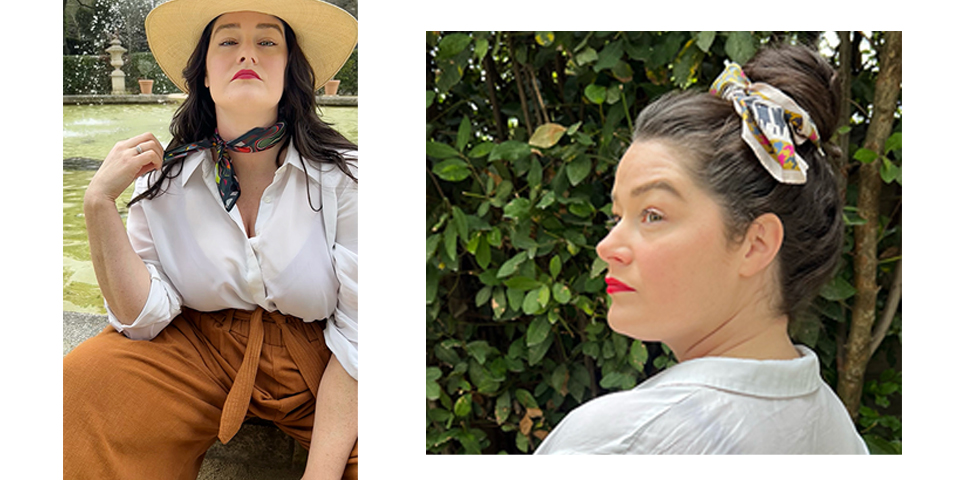 Styling a small silk scarf is a great way to add a pop of color to an otherwise neutral outfit. I've added the Lava Party Small Silk Scarf as a neckerchief (simply fold into a triangle, roll up, and tie around the neck). Styling a scarf this way looks great with a button down (like our Ina Blouse) or a simple white tee (like our Mia tee).
I also like to add a small silk scarf to my hair. Find something that contrasts with your hair color to give it a nice pop. Here I used the Houndstooth Small Silk Scarf.
Other great small scarf styling ideas: adding it to the chain/ strap of handbag, wearing it as a bracelet, adding it under the collar of a button down. Truly, the options are endless.
Now...how to style a large silk scarf? At Alice Alexander we carry a 40X40 inch/ 101X101 centimeter silk scarf which is pretty substantial in size.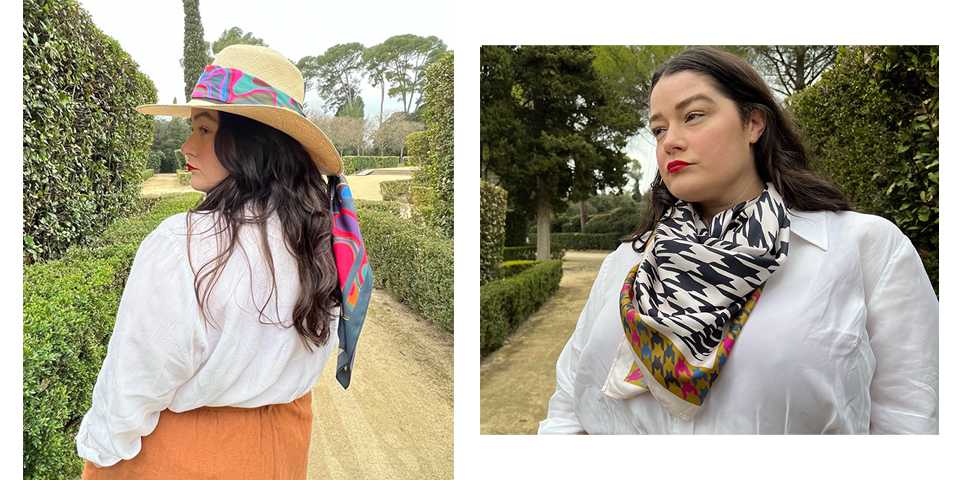 Folding the large silk scarf into a triangle and rolling it into a tube is the perfect way to add a pop of color to a simple straw hat. If you're wearing a fairly neutral outfit, this is a great way to add more color with zero commitment.
Another option that works year round, is to fold the scarf into a large triangle, and tie around your neck securing it with a small knot. I especially like to style my scarf like this with a jacket.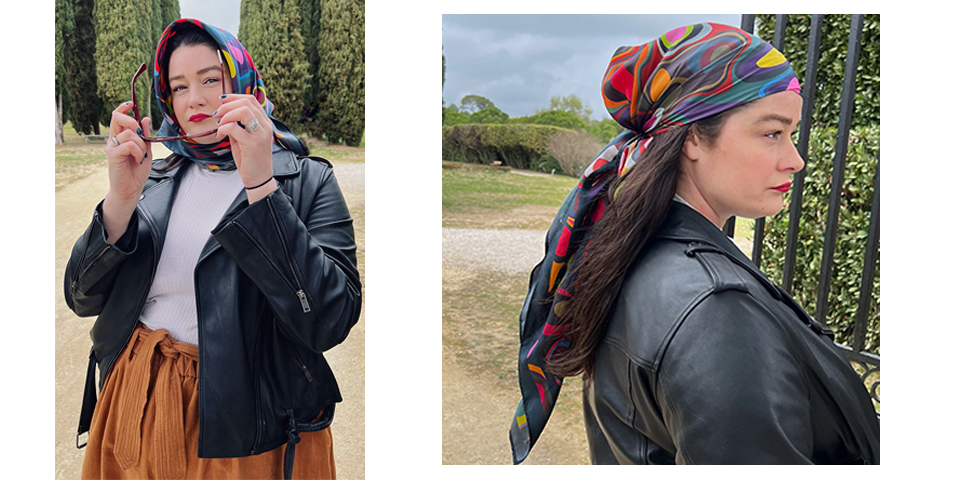 Here's two more large silk scarf styling ideas: style it ala Hollywood movie star (I call this the Grace Kelly). Where's my convertible and very hunky co-star?
And secondly, style it in this 1970's inspired look.
Pair it with some hoop earrings, a great pair of shades and you're in business.
I found that the more time I spent playing around with all the different silk scarf styling options, the more ideas I came up with.
Looking to add a pop of je ne sais quoi to your wardrobe? Purchase our in-house designed silk print scarves here.
Shop our Silk Scarf Collection
Large Silk Print Scarf Lava Party
Large Silk Print Scarf Houndstooth
Small Silk Print Scarf Houndstooth
Small Silk Print Scarf Lava Party
Net Orders Checkout
| | | | |
| --- | --- | --- | --- |
| | | Subtotal | $0.00 |
| | | Shipping | |
| | | Total | |
---
Shipping Address
Liquid error (layout/theme line 214): Argument error in tag 'include' - Illegal template name